Page 16
Aug. 10, 2018
India
96 Min.
R
Synopsis
Page 16 Bollywood Horror Mystery Movie In HD
Page 16 is a Supernatural thriller. It's a story about an ambitious builder Ajay, whose life turned
upside down when he bought a book for his son Harsh. It all started with page 16 of that book where
his past and present life gets entangled.
REVIEW: A business tycoon's beautiful yet pig-headed daughter falls for one of his average-looking
married employees, Ajay. In a moment of weakness, Ajay engages in a fling with the hottie but tries
to steer clear of her when she gets pregnant. 

However, after her death, Sanjana's disgruntled spirit comes back to haunt the Khuranas and what
ensues is a series of typical Bollywood-style horror scenes and sequences that are at times laughable,
but mostly make you cringe.

The script of this supposed-horror thriller, has absolutely no thrill nor does the narrative have any chilling, paranormal activity. 'Pagge 16' is riddled with cliches and is testament to the fact that Hindi horror movies, even with today's advanced CGI effects, have a long way to go in terms of good storylines and execution.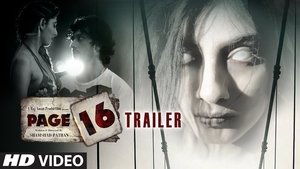 IMDb Rating 4 15 votes
TMDb Rating 6 2 votes